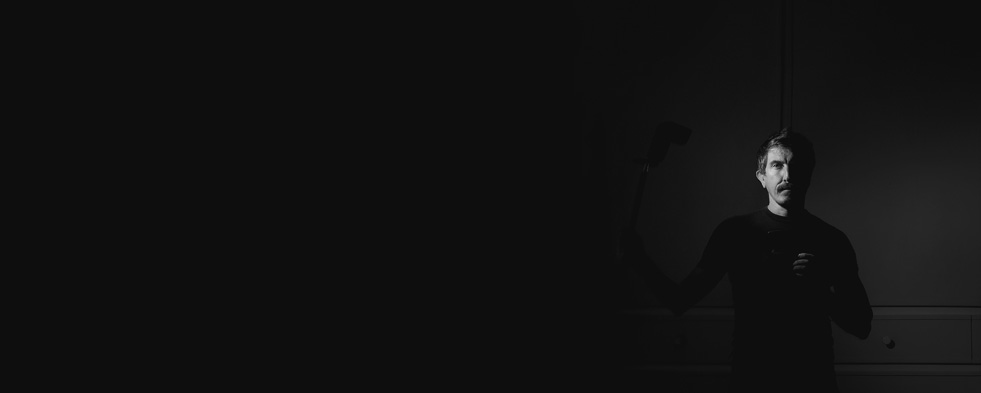 Edmund Kurenia was born in Poland in 1977, studies in the Private Art School of Space and Form Design. From an early age he expressed interest in typography, graphics and photography. At the age of nine he received his first camera, a CZAJKA 3 from his paternal grandmother. He learned from his father, who was also passionate about photography, so much so that at home he had created a real laboratory for developing films, analogue photography. After years of searching for his own way in the artistic fields of photography, graphics and painting, Edmund decides to leave Poland. He first arrives in Cyprus, where he works as a bartender at a hotel bar. At work, he always carries a SONY digital camera and photographs the objects left in the rooms by tourists. His collection of photos allows him to create the project: "Objets Trouvés - MINI BAR SERVICE". In this work, Kurenia wants to express the constellation of spontaneous gestures unknowingly made by people, who tell their stories.
"All this is the creation of intimate reality and I as a photographer. I create real intimacy, I am aware that while I take a picture I am in the middle between the story of the object and its owner. When I find the peak of the case, my form and my vision complement each other. This is the recognition autopsy that has humanity as its title with its space and its time. I understood that space does not like absolute emptiness ".
The Objets Trouvés project gets recognition through the exhibition organized in the LE PETIT CANNIBAAL Gallery (Valencia, Spain),curated by the Dadaist Ximo Rochera. The exhibition featured a hundred and eight photographs.
After his stay in Cyprus, Kurenia returns to Poland and stops in Wrocław. Here, find other interests and create another project: "The Social Conditions of the XXI century. Świebodzki Wrocław Station", in which he presents photos that highlight the hardships and social problems of the people. In the meantime, he began collaborating with various photographic studios, up to the creation of his own photography and graphics studio. After five years of experience in commercial photography in which he deals with fashion, furniture, packshoots, portraits, he decides to close the studio and devote himself to travel. He leaves for Europe and beyond, passing through England,Spain, France, Cyprus, Egypt, Italy, Denmark, up to Canada.
"Because in order to understand another civilization, we need to have a comparison".
In his travels, he decides to observe, and then photograph, the survival instinct, present in different cultures. He also began writing reports for the Polish newspaper "Filiżanka smaków". Make another project: "HIDDEN OUTSIDE", in which Kurenia tries to find shapes and designs present in the photographed people, who already have their suffering ..., project was presented in 2016 in Canada, in the DAMSELFLY Gallery held by Susan Virginia Irons Ware. In this project Edmund Kurenia exposed the portraits of thirty people, known during his travels.
"I tried to pull spontaneous gestures out of their behavior without any pretense".
In 2016 Kurenia leaves Canada and in collaboration with Hangar Tattoo Studio & Gallery held by Cecylia Agostini, prepares another project: "Reality is an optional". Eleven people take part in this, including musicians, performers who expose their bodies covered in tattoos. At the end of this journey, Kurenia expresses herself as follows:
"Every person who comes your way is your reflection, it is your intention. Neither the language you use to communicate nor the leaders you wear has any importance. The only important factor is to find the energy balance in oneself and in others in order to be able to express that we are all one ".
The next project carried out by Kurenia in 2017 in Canada is: "New Constellations - Mirror of nature". This time Edmund wanted to bring out the structure of time expressed through dialogue between water and light. Because according to Kurenia:
"The new constellations are a new form of designing reality and space. Both both space and reality do not tolerate absolute emptiness. The world is listened to, perceived and observed without prejudice ".
The project "New Constellations - Mirror of Nature" is exhibited in Rome in three different places: in 2017, in the Galleria Spazio 44 under the care of Francesco Colagrande and in the Canova 22 Gallery, held by Fiorenza d'Alessandro. This project is in continuous development and is being enriched as new photographs taken in Sicily and Rome. Another project by Kurenia is titled: "Edmund Kurenia 7 anni in viaggio / 2010 - 2017 / Canada> Europe" and is exhibited in the Canova 22 Gallery in Rome in collaboration with the curators of the exhibition Fiorenza d'Alessandro and Laura Fusco. On this occasion, Kurenia presents thirty-five photographs of landscapes taken during his travels between Europe and Canada. Photos of landscapes in black and white and other photos of portraits of people with their tattooed bodies have a common thread: the dialogue between man and space. Edmund Kurenia points out that:
"landscapes have never had owners ... Landscapes have been created in collaboration between man and nature and space. The sum of this creation lies only in observation and transcription ".
Today Edmund Kurenia lives in Rome, where he works on new projects IL VANGELO SECONDO l'UOMO about which the documentary film directed by Anna Zoll is made "UN UOMO SECONDO KURENIA" and is also working on a new photographic and film project NELL'ABRACCIO DI MORFEO with which he is the director and screenwriter.